President Trump says infrastructure improvement is a necessity.
If you are a truck driver you know first hand how bad our nation's roads and bridges really are.
Both major trucking organizations and Trump's Secretary of Transportation have been voicing their support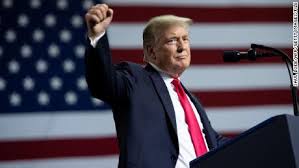 for improving the Nation's infrastructure.
Congress has indicated that it is interested in passing an infrastructure bill. The question is, how will it be paid for. I think we as the transportation industry should not be surprised if ultimately we are asked to pay for a significant portion of it.
That may be through increases in fuel taxes at the pump, mileage taxes or even an increase in the Federal Highway Use Tax.
So, how much are you as a truck driver willing to contribute? Not that you will necessarily have a choice but you need to voice your opinion. Keep in mind that we have to do something and there is no way we can avoid paying. There just is not enough money coming in to make all the repairs that need to be done.
Representative Peter DeFazio from Oregon said, "Any serious infrastructure proposal must provide
sustainable, long-term federal funding so we can make these necessary investments, create millions of living-wage American jobs, increase economic growth and decrease congestion and emissions…"
Wow that was quite a mouthful from the Democrat from Oregon. Just in reviewing his statement I think we can bet any infrastructure bill coming from Congress is going to be expensive and filled with government red tape and regulations.
Get ready for higher taxes Transportation Industry!