Types of Calls Made in Freight Sales
This is a relatively short section in our freight broker agent training. We were going to combine it with some other sections because it is not very long but decided it was deserving of its own article because it is important to know exactly what types of calls you will be making on a daily basis.
There is nothing magic or mystical about the types of calls you will be making but it is important as you schedule your daily activities to understand what you are trying to accomplish in each type of call.
Types of Calls
New Cold Call. Yes these are the hardest but this is how you generate revenue.
Opening lines are designed to catch attention.
Be polite and respectful without sounding apologetic.
Explain why you are calling and highlight the most likely gaps the customer is facing. This way you imply a certain level of expertise as well as potential solutions.
End the initial phase of the call with a non-threatening question designed to open a dialogue. You have to open the discussion before you can close the sale.
Remember, the customer wants to know two things quickly:

What is this about?
How does it benefit me?
Revenue Recovery Program calls – calling old customers. These people have already done business with you. They should be 'easy' sells as compared to cold calls. The key here is to find out why we lost their business.
Did we just stop contacting them?
Was there a service issue?
Was there a problem with the Account Manager?
Were our prices competitive?
Did the customer contact change and we not follow up with the new person?
Follow up Calls.
These are the next stop after the initial cold call.
Some short term interest.
No short term interest.

These calls are about building long term relationships.
Follow up Calls on New Customers. These are the customers you have already closed and have turned over to an Account Manager (or yourself).
As stated above, there is nothing secret about the types of calls you need to make. You just need to make sure you are making the calls if you want to be a successful freight brokerage agent or a successful capacity freight agent.
The key to sales if we have not made it clear yet is to not give up. To keep going even through rejection. Always be on the lookout for a new opportunity and ready to grab it. When you are driving down the road pay attention to the business you pass. Do the ship freight? If so, they are probably either looking for a good transportation agent or brokerage agent to represent them. If they are not, they will be. That is the way the transportation industry goes.
The same goes for agents and trucking companies looking for agents. If you are looking for a new opportunity with a new transportation company, CLICK HERE.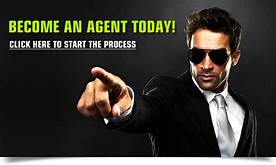 Freight Agent Jobs. Freight Brokers Looking Agents. Trucking Companies looking Agents.